Human Trafficking Initiative
The Junior League of Daytona Beach is a proud member of
The Freedom 7 Human Trafficking Task Force
(Volusia, Flagler, Putnam, and St. Johns Counties)

Junior League Members want to end human trafficking in our area.
This dress symbolizes how little victims often have. #NotForSale #IAmPriceless #EndHumanTrafficking
Photo Credit: Joe Piaskowski of DBA 728 Photography
---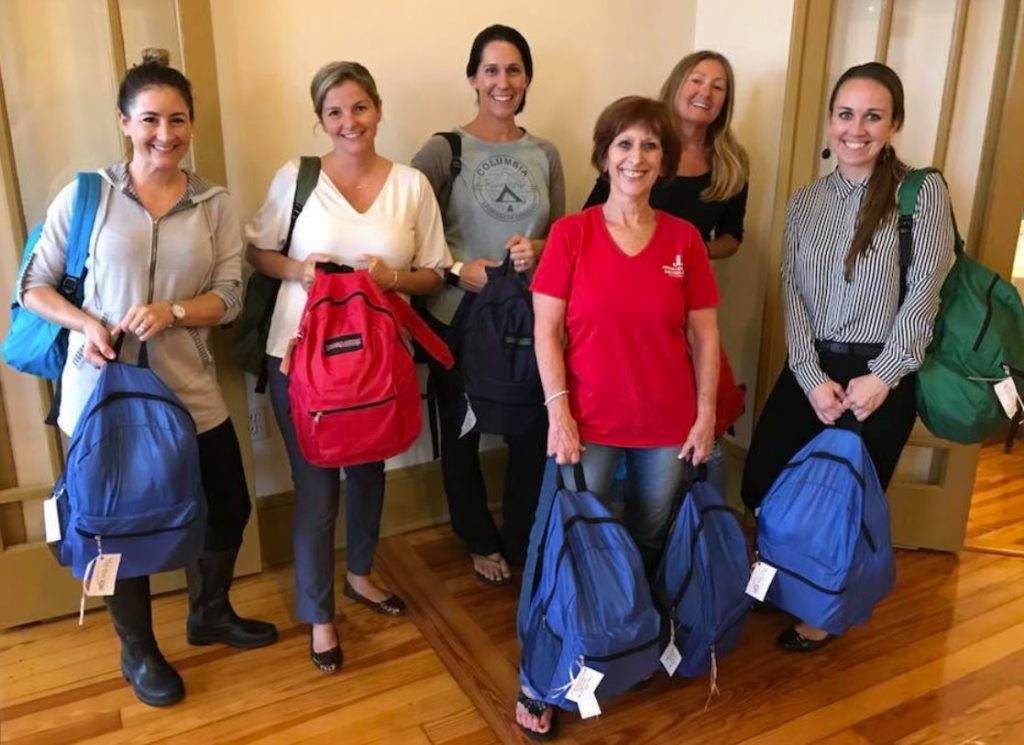 Junior League Members put together backpacks to give to the Daytona Beach Police Department, for distribution to local human trafficking victims.
---
This committee is dedicated to an ongoing education campaign and raising awareness about human trafficking, through community-wide events that bring together leadership of various local agencies and businesses. The Human Trafficking Committee provides an open forum to discuss how to identify victims in our area and what can be done to help end this modern-day slavery.
This will be the sixth year of participating in the international movement – Little Black Dress Initiative – in which women across Volusia County wear the same black dress for 5 days in a row, to exemplify the complete lack of possessions (including clothing) most human trafficking victims have with them when they are rescued. Women will also wear a button that reads, "Ask me about my dress!" and have educational cards to be given out.  The Little Black Dress Initiative will run from January 11th – 15th, 2021. 
---
The Junior League of Daytona Beach currently provides backpacks filled with clothing, hygiene items, and a few extra personal pieces to local law enforcement, to be distributed to human trafficking victims.  These items are given out to victims, so they can begin to rebuild their lives with basic necessities, after being pulled from these dangerous situations.
Other initiatives include, partnering with the Junior League of Greater Orlando and the Junior League of Tampa, for a Florida coast-to-coast awareness campaign.  This involves participation in the Light the Way and Walk with Me events, and the creation of two Public Service Announcements, please check the videos out below!
We have also partnered with the Human Trafficking Task Force of Volusia, St. Johns, Putnam, and Flagler Counties and are offering a FREE webinar for anyone interested on January 21, 2021 at 10:00AM.  Attendees must register online.
Register here
Assistant US Attorney and HT Coordinator Lisa Thelwell and AUSA Laura Taylor will explore HT Investigations and Prosecutions, the Victim's perspective, and best practices for responses.
Resources:
Polaris | We Fight to End Human Trafficking (polarisproject.org)
National Human Trafficking Hotline
Resources for Victims of Human Trafficking and Other Crimes | USCIS
Resources:
Polaris | We Fight to End Human Trafficking (polarisproject.org)
National Human Trafficking Hotline
Resources for Victims of Human Trafficking and Other Crimes | USCIS
AAUW Human Trafficking | Daytona Beach (FL) Branch
Training – Florida Coalition Against  Human  Trafficking (stophumantrafficking.org)
Human Trafficking in the Greater Daytona Beach area in the News:
5 women arrested as Flagler County sting targets human trafficking (news-journalonline.com)
Two men charged with human trafficking in Daytona held minor against her will, police say – News – Daytona Beach News-Journal Online – Daytona Beach, FL (news-journalonline.com)
Human trafficking reports increase in Volusia County – News – Daytona Beach News-Journal Online – Daytona Beach, FL (news-journalonline.com)
---
---